Precision is our passion. Our certifications demonstrate this. If you would like to see or download one of our certificates click here.
DAkkS
Since the year 2000, ZERA has been operating its own calibration laboratory (D-K-15103-01-00) accredited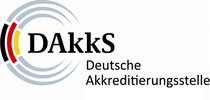 by DAkkS. Through regular auditing, traceable standards as well as clearly defined surrounding conditions, the DAkkS accreditation guarantees a high quality of calibration according to DIN EN/ ISO IEC 17025:2018.
The accreditation allows us to calibrate the following quantities for measuring electricity:
Direct current and low frequency
Direct voltage
Alternating voltage
Alternating current
Electrical power
Electric energy
Phase angle
Voltage ratio
Current ratio
Scope of the management systems
The management systems
Quality management system acc. to DIN ISO 9001
Management system for Health and Safety acc. to DIN ISO 45001
Environmental management system acc. to DIN ISO 14001
as valid in the respective version, apply to the location of the ZERA GmbH, 53639 Koenigswinter (Germany), Humboldtstr. 2a, the persons working there, the activities, products and services. The interests, requirements and binding obligations of all stakeholders and the internal and external influencing factors are taken into account. They are part of the scope of the management systems.
The above-mentioned premises is located in the Krahfeld industrial area. There are no installations requiring a permission. In the neighbourhood there are commercial enterprises, a municipal depot and a municipal ambulance station.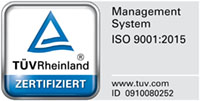 ISO 9001:2015 Quality management
ZERA works according to the guidelines for achieving quality management defined in the international norm ISO 9001:2015. This way we optimize the performance of the company and guarantee high customer satisfaction.
The ZERA GmbH has been certified by TÜV Rhineland and is audited regularly.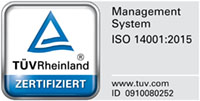 ISO 14001:2015 Environmental protection
ZERA works according to the guidelines for environmental protection defined in the international standard ISO 14001:2015. An environmental management system creates conditions for continuously improving ZERA's environmental performance and minimising negative environmental impacts. The goals are to achieve optimised energy and resource efficiency, compliance with legal regulations and employee participation in active environmental protection.
To improve environmental performance, our processes and facilities are constantly being developed.
ZERA has been certified by TÜV Rheinland and is audited at regular intervals.

AMS – Management system for Health and Safety acc. to DIN ISO 45001
Keeping the workplace safe and protecting the health of our more than 100 employees means a lot to us. By organizing these areas systematically, we further productivity, performance and the commitment of our workforce. Only in this way can we fulfill the highest quality standards.
The professional association has certified ZERA GmbH's management system for Health and Safety acc. to DIN ISO 45001
.

Certificate of sustainable & recyclable raw materials
ZERA has joined the BRAMIN concept. The application of this concept helps to protect the environment. The installed raw material baling press saves truck transports due to a lower volume of recyclable material. Source sortin increases the proportion of recyclable material.

Certified green electricity
The Bad Honnef AG (German utlity) supplies us with certified green electricity.